The Silver Ridge SE is an entry level mountain bike for the recreational rider. It is made of steel for durability on the path or trail. The front suspension fork gives you 50 mm of travel and improves comfort and control over rough terrain. This bike features SRAM MRX GripShift shifters with 21 speeds that provide easy gear changes to manage any hill. The aggressive tires provide traction under adverse conditions. We will contact you within 48 hours to obtain sizing information. All shipping costs are included.
Spotlight Values
LT3 Tire 26"x2.0" (Bontrager)

$29.99

Smooth and easy rolling center section, the modern successor to the Connection/Connection Trail...
Other Featured Products
Bones 3 Rear Rack (Saris)

$172.99

Injection-molded arc-based designed arms and legs are the strongest on the market and fit over...

Hitch 4 - Four Bike Hitch Rack (Schwinn)

$164.99

Get your motor running and head out to your favorite bike trails with the Schwinn 158R hitch rack...

Magnetic Trainer (Schwinn)

$159.99

Turn your bike into more than a fair weather friend with the Schwinn Magnetic Trainer. The...
Have a BikeShop.com gift card?
Enter the code on the card below to assign its value to your cart and begin shopping an expanded catalog of our quality cycling products.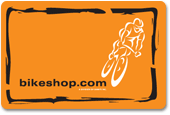 To view your account balance and add multiple gift cards, please click here.
If you are participating in the Health by Design program, please click here.